Tooth loss can have devastating impacts on the look, feel, and function of your smile. Fortunately, we help patients who suffer from tooth loss restore their smiles with dental implants at Clinton Family & Cosmetic Dentistry. Dental implants are considered the premier option for tooth replacement, offering patients a wide range of benefits that they won't find with other options like dental bridges.
Learn more about the benefits of implant dentistry below.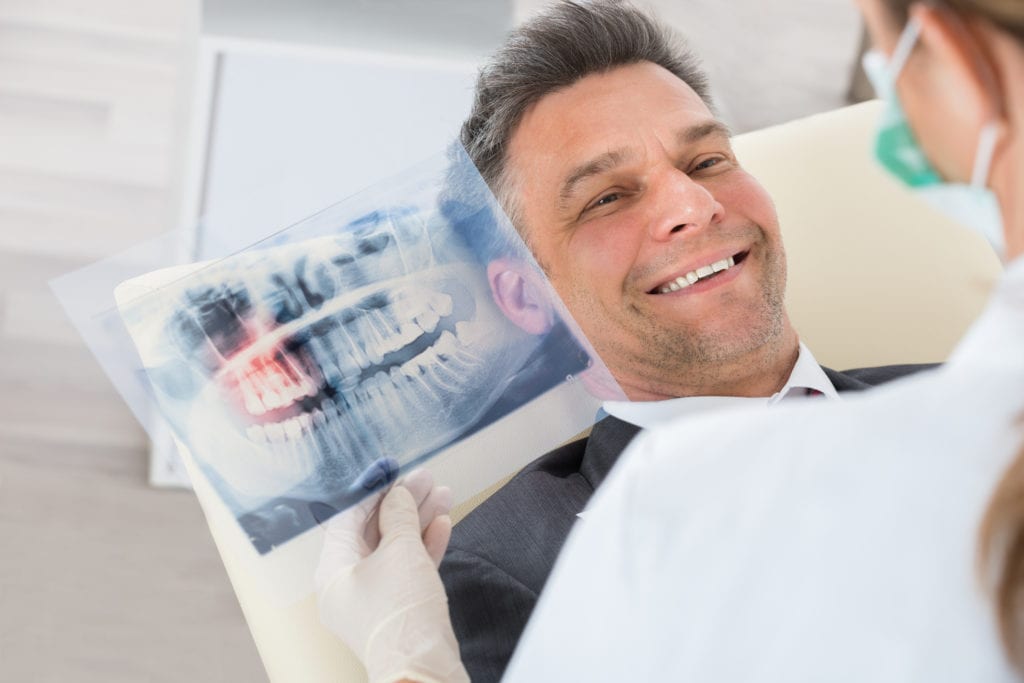 Dental Implants in Clinton, NC
Dental implants are the premier tooth replacement option in Clinton, NC! Our dental implants utilize a titanium post that is surgically implanted into your mouth and allowed to fuse together with your jawbone. Once fully healed, you will be able to utilize the implant just as you would a natural tooth. Visit Dr. Oquejiofor for a custom dental implant.
Benefits of Dental Implants
Patients love dental implants because they come with a variety of long-term benefits that can be enjoyed for the rest of your lifetime. When you choose to replace a missing tooth with a dental implant, you can look forward to the following benefits:
Improved Appearance – Missing teeth take a toll on the overall appearance of your smile. By replacing your tooth with a dental implant, you will not have any visible hardware surrounding your restored tooth, meaning it will blend in seamlessly with your smile.
Improved Chewing & Speaking – Often, missing teeth create issues with your bite pattern, negatively impacting your ability to chew certain foods or pronounce certain words. Dental implants effectively replace a missing tooth within your smile, leading to better chewing and speaking patterns.
No Dietary Restrictions – Because of the surgically implanted titanium post, your dental implant will have complete tooth-root functionality. This means that you will be able to enjoy all of your favorite foods without worrying about damaging any external hardware.
No Oral Hygiene Hazards – Because the dental implant's hardware is protected by your own soft tissues, you will not have to adapt your oral hygiene around it. Instead, you can continue to brush and floss just as you usually would.
Long-Lasting Restoration – Dental implants will last most patients for the rest of their lifetimes.
Dental Implants FAQs
Am I a candidate for dental implants?
Some patients may be ineligible for dental implants. This largely depends on the current state of your dental health. If your tooth has been missing for a while, you may require a bone graft to ensure your jawbone is strong enough to handle oral surgery. The best way to find out if you are a candidate for this tooth replacement option is to schedule an implant dentistry consultation with Dr. Oquejiofor.
Are dental implants a permanent solution for tooth loss?
Yes, dental implants are a permanent solution for missing or damaged teeth. The implant post is secured in the jawbone where it will fuse to it essentially becoming one with the bone.
Will dental implants stop bone loss?
Dental implants are the only teeth replacement solution that will prevent bone loss. Dentures and dental bridges do not replace the teeth at the root. The implant post will actually act as a tooth root providing enough stimulation for the bone to regenerate. By preventing bone loss, dental implants will hold the natural shape of your face preventing an aged appearance.
Are dental implants worth the cost?
A dental implant secured restoration is worth the time and money it takes to complete the treatment. It is the only solution that will allow you to eat a normal diet with little to no restrictions, prevent surrounding teeth from extra stress or damage, last a lifetime, and allow you to not worry about your teeth constantly.
What are the 3 stages of dental implants?
The three stages of dental implants include placement, attachment, and fitting of the crown. In many cases we need to remove a tooth before placing an implant. You will need to recover and heal from the extraction before we can begin the implant process. 
How long does it take for dental implants to settle?
After implants are placed, it takes a couple of weeks for patients to adjust, however they will not fully heal until months later. It may take anywhere from six to eight months for you to fully recover from the implant procedure. 
How long does implant surgery take?
In general, implant surgery takes about 1-2 hours per implant. If you are having three implants placed it can be expected that it will take anywhere from 3-6 hours.
Clinton Family & Cosmetic Dentistry is excited to help you restore your smile with dental implants, one of modern dentistry's greatest achievements. Schedule an appointment with Dr. Oquejiofor today to get started on restoring your smile following tooth loss. We look forward to seeing you soon in our Clinton, NC dentist office.