Are you looking for an effective and long-lasting cosmetic dentistry solution? If so, porcelain veneers could be exactly what you need to take your smile to the next level. This popular cosmetic dentistry treatment allows patients to transform their smile without losing much of their natural tooth structure. Patients love dental veneers because they are a minimally invasive treatment option offering noticeable results that will last for many years to come. Dr. Tim Balzen provides porcelain veneers in Clinton, NC, for patients who want to improve the appearance of their smile.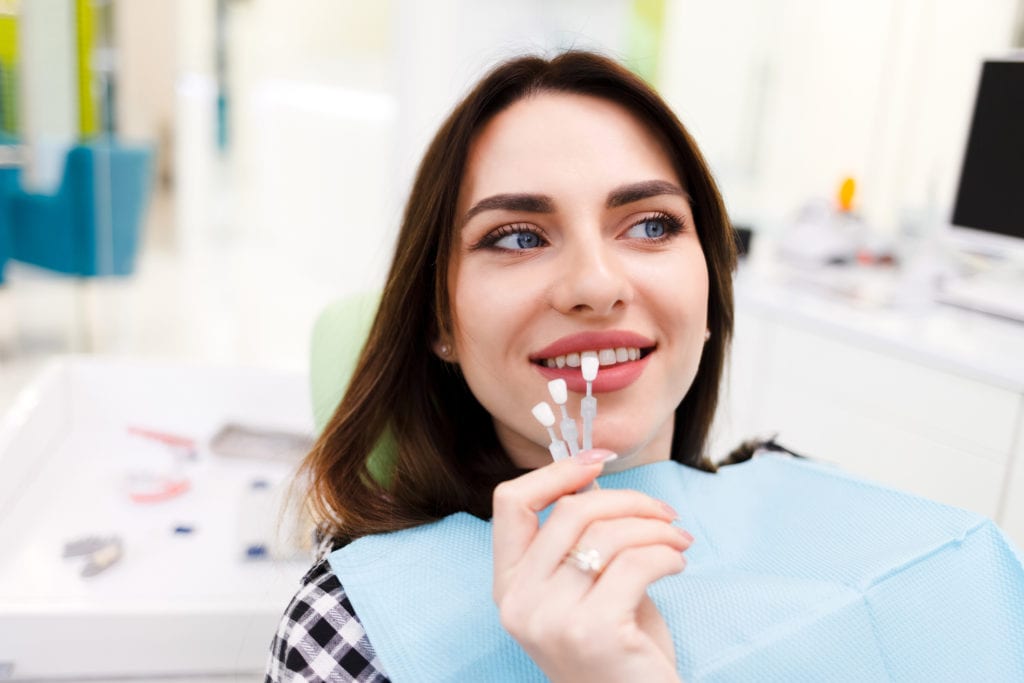 What are Porcelain Veneers?
Dr. Tim Balzen is happy to provide porcelain veneers to patients who are looking for a complete smile transformation. Porcelain veneers allow both the doctor and the patient to design their perfect smile aesthetics. Depending on your cosmetic dentistry and budgetary goals, you can get one veneer or a full mouth of veneers to assist with achieving your goals. Teeth veneers are versatile cosmetic dental treatments that can change the color, size, and shape of a tooth. They can also fix the alignment and spacing between teeth.
Porcelain veneers are thin, custom-made shells that are placed over the front surface of teeth to improve their appearance. They are made from high-quality porcelain that closely mimics the natural look of teeth. Our dentists can use them to conceal major or minor blemishes, including:
Bleach-resistant stains
Minor chips or cracks
Small gaps
Crooked teeth
Misshapen teeth
The Process to get Porcelain Veneers in Clinton, NC
Dentists design porcelain veneers to be thin, ceramic shells that cover only the front-facing portion of your natural tooth. The shell conceals your natural tooth beneath it, only requiring a small amount of enamel removal due to its thinness. This means that this treatment option is minimally invasive, allowing you to keep most of your natural tooth structure intact.
The process for getting porcelain veneers typically involves two or three dental visits, with the first visit being a consult with Dr. Tim Balzen. She will analyze your smile and make sure your dental veneers are the right treatment for you and that you qualify for them. Most people will qualify for them if they have good oral health. This includes healthy teeth and gums.
At the next visit, Dr. Tim Balzen will prepare your teeth. This process involves removing a small amount of enamel from each tooth that requires treatment. We will take impressions of your teeth that we will use to make your custom teeth veneers in a dental laboratory.
During the last visit, your dentist will secure the custom porcelain veneers for your teeth using dental cement. You will leave the appointment with a completely transformed smile.
Porcelain Veneers FAQs
Porcelain veneers continue to grow more and more popular. They can deliver amazing results and help patients smile with confidence. Take a closer look at them by reading through our frequently asked questions section. If you have further questions, please call our office or book a consult with Dr. Tim Balzen today.
How long do porcelain veneers last?
It's crucial to ensure you take care of your porcelain veneers properly for their longevity. On average, porcelain veneers last around 10-20 years. As long as you care for them, they can last even longer.
Does a porcelain veneer procedure hurt?
No, porcelain veneers shouldn't hurt. You may experience some tooth sensitivity in the first week or two that you have the veneers. After this time, you shouldn't have any discomfort.
Do porcelain veneers feel weird in your mouth?
It does take a week or two to adjust to having veneers. Many people report that their teeth feel bigger or longer, but this is a temporary thing. In no time, you don't even notice that the veneers are there, and they become a normal component of your smile.
Can I whiten my porcelain veneers?
No, the materials in porcelain veneers do not allow them to respond to traditional whitening techniques. The material is stain-resistant and designed to resist discoloration. However, if you use tobacco products or regularly eat and drink pigmented food and beverages, your veneers will become discolored with time.
Do porcelain veneers require any special care?
To start, make sure you follow a normal oral healthcare routine. Brush and floss twice a day and visit your dentist regularly. The teeth behind your veneers can still get cavities and experience tooth decay. To keep veneers white, you should avoid regularly consuming things that can pigment your veneers. Try to avoid biting down with full pressure onto hard foods with your veneer. They're durable but can still chip or break. A nightguard is important for the same reason if you grind or clench your teeth at night.
Are porcelain veneers reversible?
No, they're not a reversible procedure. This is because the dentist will remove some enamel and tooth structures to make room for the veneer. Once the procedure is complete, you'll need to always have a veneer on this tooth to ensure it's stable and protected.
Should I feel my veneers moving?
No, dentists permanently bond veneers to your teeth. If you feel any movement or give in them, call our office right away. We'll do an exam to find the cause of the movement and determine if you need a repair or replacement.
Can I straighten my teeth with Invisalign if I already have veneers?
If your veneers are healthy and strong, you can get teeth straightening treatment with either Invisalign or traditional metal braces. You may have to get attachments for your Invisalign aligners to make sure that they properly fit your smile.
---
Book A Consult to Find Out More About Porcelain Veneers in Clinton, NC
With porcelain veneers, our experienced cosmetic doctor can help you reimagine what your smile could look like by concealing just a few imperfections. Schedule a consultation with Dr. Balzen or Helmer to learn more about how we can provide you with the smile makeover of your dreams. We look forward to speaking with you soon!