Don't let crooked teeth negatively impact your self-esteem. At Clinton Family & Cosmetic Dentistry, we are here to help you achieve your dream smile and feel more confident about your overall dental health. For patients suffering from mild to moderate orthodontic concerns, we are happy to provide Invisalign clear aligners as a cosmetic dentistry solution. Patients love Invisalign because it offers discreet treatment with the same beautiful results you would get from traditional metal braces.
Learn more about Invisalign below.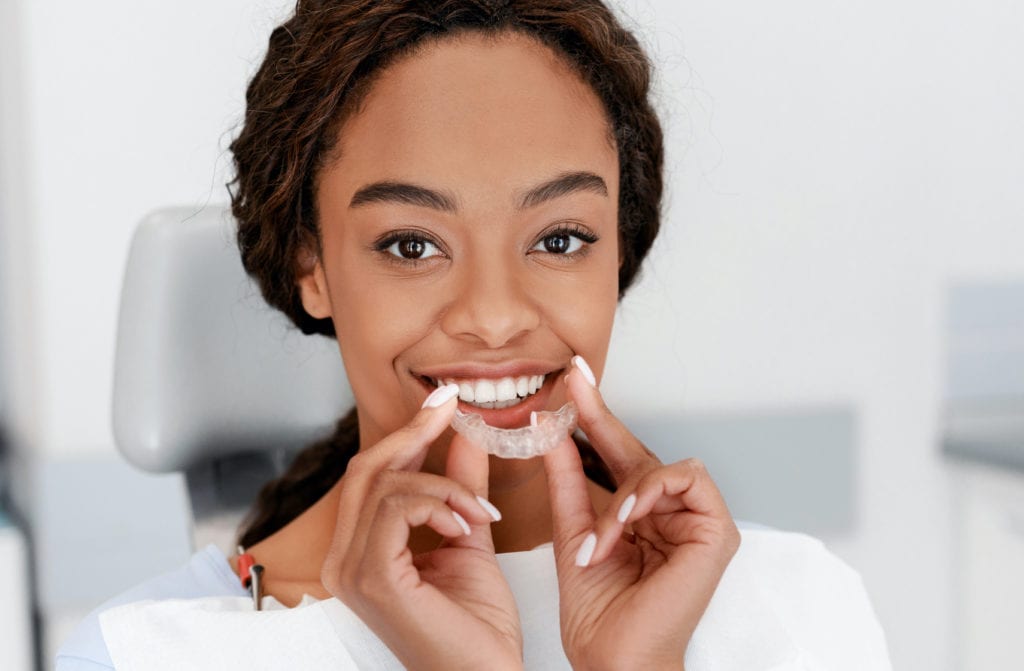 Invisalign in Clinton, NC
Dr. Oquejiofor provides cosmetic dentistry in Clinton, NC. She has helped many patients achieve their dream smiles with Invisalign clear aligners. Invisalign clear aligners are one of modern dentistry's best advancements. Allowing patients to avoid the associated hassles of traditional metal braces, Invisalign best serves patients in need of mild to moderate orthodontic treatment.
If you think Invisalign may be the next step toward your dream smile, schedule a consultation with Dr. Oquejiofor.
Benefits of Invisalign
One of the many reasons that patients love Invisalign is because it offers benefits that other orthodontic solutions do not. These benefits include:
Discreet Treatment – Invisalign is a discreet alternative to traditional braces. The clear, plastic aligners are completely see-through and easy to clean. Unless you remove the aligners in front of someone, they should not be able to tell that you are undergoing orthodontic treatment.
Removability – Patients can remove the aligners throughout the day to eat, drink, or brush their teeth. With traditional braces, the metal brackets and wires would need to be firmly secured to your dental structures for the entire duration of your treatment plan. However, with Invisalign, as long as patients wear their aligners an average of 20-22 hours a day, their treatment plan will progress as planned.
No Dietary Restrictions – A major lifestyle adjustment is necessary to receive orthodontic treatment with metal braces. Patients are often advised to avoid eating their favorite chewy or crunchy foods until their treatment is complete. However, Invisalign offers patients the ability to maintain their current dietary preferences because they may remove the aligners to eat or drink.
No Additional Oral Hygiene Precautions – Often, patients with metal braces will struggle to properly brush and floss around their orthodontic hardware. With Invisalign, you do not have to worry about this. Often, patients feel more confident about their ability to maintain good oral hygiene during treatment with Invisalign than with traditional metal braces.
Invisalign FAQs
How long does treatment with Invisalign take?
Invisalign treatment is often shorter than treatment with traditional metal braces. However, it does vary depending on each patient and the severity of their case. On average, Invisalign usually takes around 12-18 months.
How long do I have to wear my aligners each day?
It's important that you make sure you wear your aligners for 20-22 hours each day. They should only be taken out to eat, drink beverages that aren't water, and brush their teeth. If you don't wear your aligners for the right length of time each day, your results will take longer, or won't happen at all.
Does Invisalign treatment hurt?
Invisalign doesn't cause severe pain, but you may experience some soreness or discomfort. This usually occurs for the first day or two after you change to your next set of aligners. Your teeth have to adjust to the new alignment and be moved further into the correct position.
What can't I do with Invisalign?
It's important that you don't do things like biting your nails, as this can damage the clear aligners. You should also avoid eating with your aligners for this same reason. The only thing you should be drinking with your aligners still in is water. Other beverages can stain the aligners or damage them with acidic contents.
Can I speed up my Invisalign treatment?
No, and it's important that you don't try to rush it. Even if your teeth feel comfortable after switching your new aligner, that doesn't mean that they're in a good, set place. Invisalign treatment works because it's moving your teeth into place slowly. If you try to make your teeth move faster, it compromises the bone and gums that hold your teeth in place. You can experience teeth that are loose or even falling out.
What disqualifies you from treatment with Invisalign?
Invisalign is designed for mild to moderate orthodontic concerns. For severe cases, you may need further treatment that Invisalign can't provide. If you have gum disease or cavities, they'll have to be treated before Invisalign treatment. If your teeth are extremely small or eroded, it may not be able to give you proper treatment with clear aligners. Lastly, if you have TMJ or grind your teeth at night, talk to your dentist about Invisalign. We want to make sure that you don't damage the aligners and compromise your treatment.
Will Invisalign give me a lisp?
You may notice a slight lisp or some difficulty speaking when you first start Invisalign treatment. Typically, it's something only you notice. However, this should resolve itself in a few days, when you get used to wearing the aligners.
How do I clean my Invisalign trays?
It's crucial that you properly clean your Invisalign trays to avoid plaque buildup and other oral health problems. When you remove your aligners to eat or get a drink, rinse them out every time. This helps keep buildup to a minimum. You should also clean them with a soak once a day. Invisalign makes cleaning crystals that are designed to clean your aligners without damaging them. Things like a low concentration of hydrogen peroxide can properly clean them as well.
Straighten Your Smile With Invisalign in Clinton, NC
If you suffer from crooked teeth or bite misalignment, schedule a consultation with Dr. Oquejiofor. She will evaluate your smile and determine if Invisalign is the right option for you. We look forward to helping you achieve your dream smile.